Tired of that constant feeling of remembering things just a little too late? Get all those mindburps (to-dos) out of your head and start getting organized.
This guide will help you get started with using mindburp and keep track of everything you need to fix & remember.
1. Create an account, all you need is an email address.
Choose a username (you can change this later) and a good* password. Be sure to check your inbox to verify your address, using the link we'll send you.
* Want ideas on how to create a good password? Google has some tips.
2. When signed in
When you sign in to mindburp for the first time, (if using a desktop screen size), you'll be presented with a short tour of the app. It's entirely optional of course 🙂
If you'd like to the tour at another time, look for the bus icon in the sidebar.
3. Create lists
Structure your (mind)burps into lists and stay organized.
Maybe you want some lists to manage private stuff and some work-related lists to share with your colleagues – use whatever magical structure works for you.

4. Create burps
As soon as a burp pops into your head – add it to a list!
In a hurry? Use the Quick Add function; just type a title and hit enter!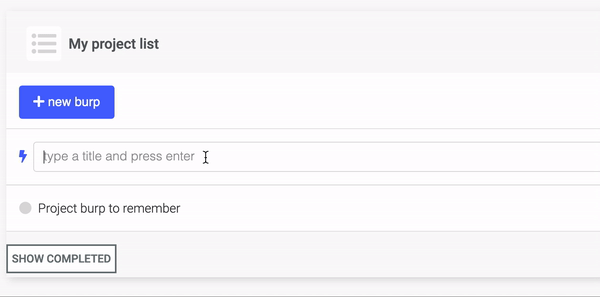 Use Due Dates and Reminders to stay on top of your burps
Set a Due Date to have your burps show up in the filters.
Manage your Overview settings in the Notification settings tab (see info below).
Something extra important to remember?
Set a Reminder and have mindburp send you an email* when time is up! (depending on you'r notification settings)
5. Share & collaborate
Share lists
Share lists with your friends & contacts! It's easy, just open the list, click the pen-icon and add new members.
You can select from your current contacts (in the drop-down) or invite new friends, just enter their email (we'll send them an invitation when you save the list).

All members in a list can invite new friends to join!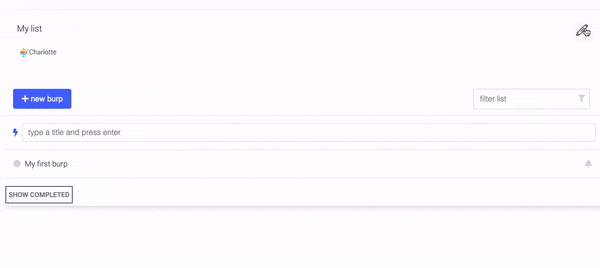 All members in a list can create new burps, update old ones and even check them off your list!

Comment burps
Write comments to keep each other updated and on track.
Depending on your settings, you'll receive notifications when someone writes a new comments!
Account settings
To open your settings page:
When signed in, click on your username in the upper right corner to open the User Menu drop-down and choose Settings.
From here you can change your username, avatar and etc.
Set a session-time if you want to be automatically signed out after a certain time.
Notifications
On the Notifications tab you can set your notification preferences. Maybe you only want notifications for burps you're assigned to, or stay updated about everything that's happening!
For more detailed information on notifications and how they work on your device, please visit our Knowledge database.
Calendar feeds
See your active burps in your favourite calendar app.
Copy your calendar feeds into your preferred calendar. Check out the calendar feed guide if you want more details on how to use the calendar feeds.
Still got questions?
Check out the Knowledge database or contact our support!